#ApologizeToSuperJunior trends after Philippine TV show calls them 'baduy' [Updated]
Filipino fans and netizens calls out 'Home Sweetie Home' for disrespecting the veteran K-Pop group
#ApologizeToSuperJunior, #RespectSuperJunior, Suju, Home Sweetie Home, ELFs and other related terms trends as the TV Show 'Home Sweetie Home' showed K-Pop fans called Super Junior 'baduy' (a colloquial term in Filipino which is used to say 'old fashioned'), as well as 'eew'.
The episode in question was shot in South Korea and is aired on December 22
On a Facebook post, Home Sweetie Home issues apology for their dialogue on their December 22 episode, saying that 'We intended to establish their seniority, but we admit that we should have used better terms to say it.'
ELFs in the Philippines and around the world are now calling out the ABS-CBN TV show 'Home Sweetie Home' after its December 22 episode shown an exchange between Empoy Marquez who plays the role of 'Sir Nards' and some K-Pop fangirls in Seoul, South Korea. He asked the fangirls if seeing Super Junior is included on their Seoul bucket list.
However, the fan girls have replied something we didn't really expect to see on a TV show.
They replied "eew," and "Hey Sir Nards, BTS is the new trend now. You're such an uncle!"
Their response was followed by laughter and comments like "Super Junior! That's so old!" and "Baduy!"
[ENG SUB] THIS IS HOW A PH LOCAL SHOW "HOME SWEETIE HOME" USED SUPER JUNIOR BY MAKING THEM AN EXAMPLE OF AN OLD, UNFASHIONABLE & OUT-DATED PEOPLE.#ApologizeToSuperJunior #RespectSuperJunior pic.twitter.com/CDmsgorIXZ

— ➾★MoNick (@teukienickie) December 22, 2018
The episode was slammed by fans for saying that the veteran K-Pop group, whom debuted in 2005 and is still currently active as of this writing, was described as old-fashioned and disgusting.
Here are some of the netizens' reactions on Twitter: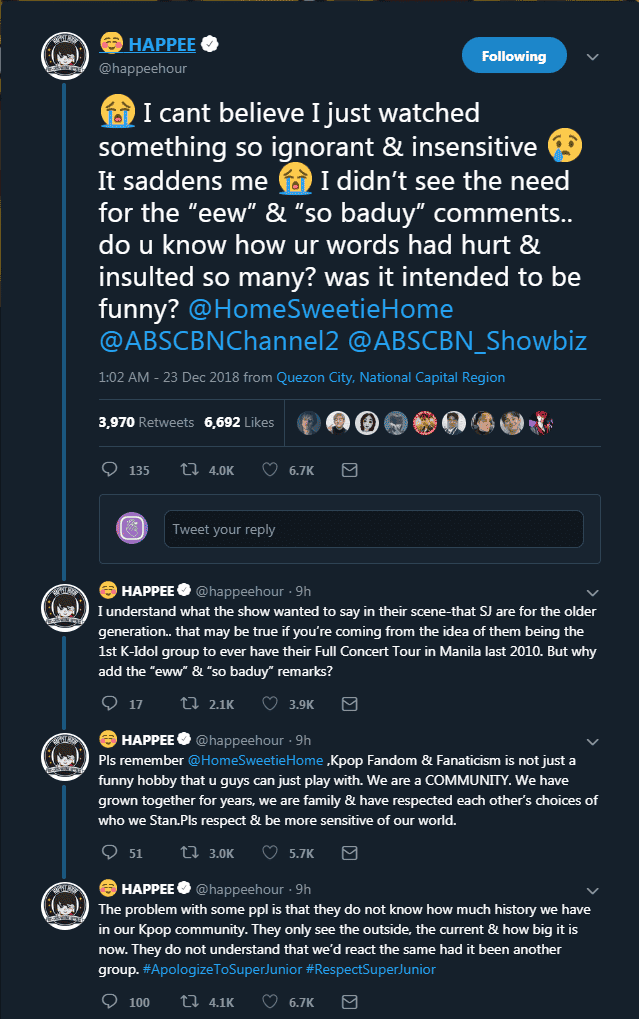 Even the COO of known K-Pop events organizer PULP Live World Happee Sy spoke about the issue, saying that K-Pop fanaticism isn't just a funny hobby that the guys at ABS-CBN could mess with. She also calls them out to have respect and be more sensitive of the world.
And while it's not the time to joke, we're sure that this tweet applies coherently.
Scriptwriter ?#ApologizeToSuperJunior pic.twitter.com/NnYsttZHUy

— Arie (@FactStraight04) December 22, 2018
Trends in Peru shows how many tweets the hashtag has.
If you are a trend in several countries, it's not because you are nice, it's because of your lack of respect for a world artist who continues making history and breaking barriers. We are ELF??,SJ fans, the last man standing and here we are to defend them.#ApologizeToSuperJunior pic.twitter.com/RtK1N1vGAN

— SJ Difusión Perú?? (@SJdifusionPeru) December 22, 2018
All of us agree on this one:
Super Junior were always one of the superior groups in Korea out there and just because they are not to be in the trend right that doesn't give you any right to disrespect their legacy #RespectSuperJunior #ApologizeToSuperJunior pic.twitter.com/iR4fgYhpUi

— Holly Lee (@0d600c7834f64aa) December 23, 2018
See more tweets here: #ApologizeToSuperJunior
Super Junior is a well-known K-Pop figure in the industry. They debuted in 2005 and largely contributed to the success of the Hallyu wave nowadays, as they are considered one of the groups to successfully cross the barrier between countries when it comes to pop culture.
Update on 2018.12.23, 11:40 – On a Facebook post, Home Sweetie Home issues apology for their dialogue on their December 22 episode.
Celebrities who are also on the December 22 episode posts their apologies.
READ: Celebrities who are on the December 22 episode of #HomeSweetieHome posts apologies for Super Junior and fans#ApologizeToSuperJunior #RespectSuperJunior pic.twitter.com/wUOo5B8dLg

— HallyuLife (@hallyulifeAMG) December 23, 2018
Meanwhile, fans responded that these are not enough, and they should do it on national TV. – HallyuLife.com
Yes, they might be around for long, but they're still one of the most admired groups in K-Pop history, and calling them out 'old fashioned' or 'eew' doesn't give any justice to what they've achieved and done.