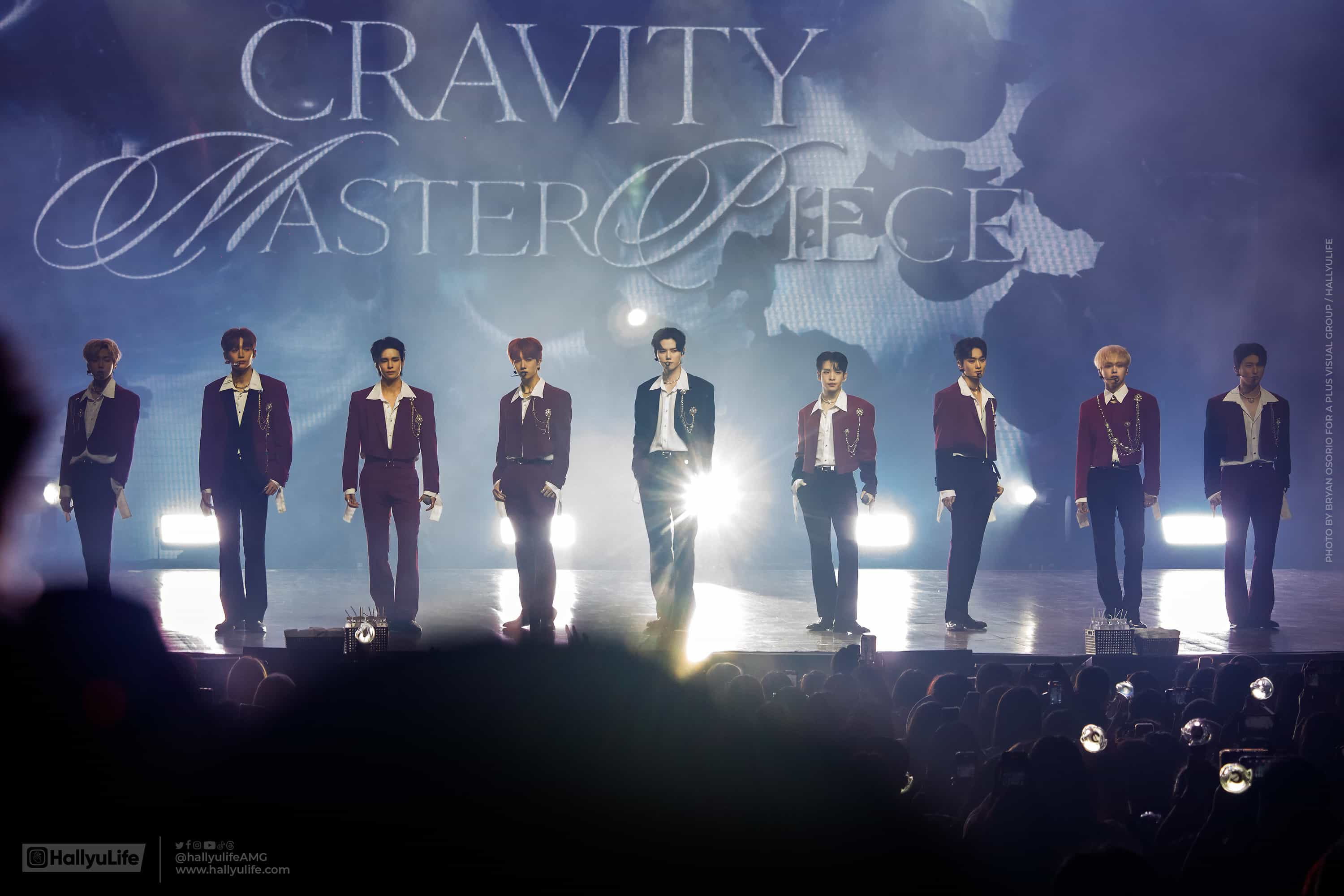 PH LUVITYs finally witnessed a true masterpiece as their idols, no other than the K-pop group CRAVITY, showcased their dynamic performances and shared their unforgettable experiences at the New Frontier Theater on August 5, 2023. Fans erupted in cheers as their idols performed hits that had soundtracked countless moments in their lives. The New Frontier Theater pulsated with energy, every corner echoing with the resounding chorus of fans singing along.
Stepping onto the stage with an undeniable aura, Cravity's ensemble of talent—Serim, Allen, Jungmo, Woobin, Wonjin, Minhee, Hyeongjun, Taeyoung, and Seongmin—effortlessly commanded the spotlight. With an electrifying presence, they kicked off the evening with their opening song, "Get Lifted," an irresistible melody that infused the crowd with an immediate surge of energy and excitement. The crowd went wild when the group unleashed their sizzling charisma in 'Baddie' and 'My Turn.'
Following the electrifying opening acts, a heartwarming interlude ensued as each Cravity member stepped forward with genuine enthusiasm to greet their adoring fans. With a shared sense of camaraderie, they introduced themselves one by one, drawing collective smiles and gasps of delight from the audience. What truly endeared them to the crowd were their surprise Tagalog greetings, weaving a tapestry of linguistic connection: "Mahal namin kayo (We love you)", "Salamat po (Thank you)", "Mabuhay (Long live)", "Kumusta (How are you)", "Na-miss ko kayo (I missed you all)", "Masaya tayo (We're happy)", and the endearing "Mabuhay beshie (Long live, friend)".
The boys continued to showcase their performances with 'Flip the Frame' and 'Veni Vidi Vici,' where the stage came alive again with their energy, and the crowd was swept up in the pulsating rhythm and the infectious enthusiasm they brought to every beat. Cravity members continued to surprise the audience with a mesmerizing performance, seamlessly blending their hit track "Bad Habits" with a surprising twist of a high-energy rendition of "Gas Pedal."
The overwhelming sense of 'kilig' continued to escalate as the members transformed their attire to exude a charming boyfriend aesthetic, captivating their fans with heartfelt renditions of their songs, "Give Me Your Love" and "Maybe Baby."
After their trending TikTok video featuring SB19's 'Gento' dance challenge amassed over 2 million views, Hyeongjun and Taeyeong took the lead in delivering an electrifying live performance that left the crowd wild with excitement, prompting the other members to join in.
CRAVITY dancing to Gento by SB19 #크래비티 #CRAVITY#MASTERPIECE_IN_MNL #CRAVITY_1ST_WORLD_TOUR pic.twitter.com/8JnQNGko4P

— zel met cravity! 🐻☀ (@luvseosweet) August 8, 2023
The party definitely did not stop as the boys elevated the excitement and energy to new heights with their electrifying performances of "Fly," "Boogie Woogie," "Ohh Ahh," "Party Rock," "Vivid," and "New Addiction."
In the midst of the fan interaction, the members delighted their audience by sharing their fondness for Filipino cuisine. They enthusiastically indulged in Jollibee's iconic chicken joy, palabok, and refreshing halo-halo.
Cravity took the stage again with a dynamic performance, captivating the audience with their energetic renditions of "Jumper" and "Pow."
PH LUVITYs did not miss the opportunity to give a surprise birthday party for Seongmin during their group photo with fans, who just recently celebrated his birthday on August 01. Seongmin, in return, thanks all the fans for throwing a surprise birthday for him.
[📸] 230805
2023 CRAVITY THE 1ST WORLD TOUR 'MASTERPIECE' in MANILA
⠀#CRAVITY #크래비티#CRAVITY_1ST_WORLD_TOUR#MASTERPIECE#MASTERPIECE_IN_MNL pic.twitter.com/Jicagl0xss

— CRAVITY OFFICIAL (@CRAVITYstarship) August 5, 2023
For their encore, Cravity members performed the lead track from their album "MASTER: PIECE," 'Groovy,' which signifies "ultimate freedom," and the pop song "A to Z."
Cravity extended their heartfelt gratitude to all the Filipino LUVITYs who have showered them with unwavering support and boundless love throughout their inaugural World Tour Concert. The overwhelming energy and enthusiasm from the fans have fueled their spirits and ignited their passion, leaving an indelible mark on their journey. With hearts full of appreciation, Cravity reassures their devoted Filipino LUVITYs that this is just the beginning of an incredible adventure together. They promised to return with even more mesmerizing songs, electrifying performances, and cherished memories as they continue to build a lasting connection that transcends borders and languages. -HallyuLife.com
---
CRAVITY's 1st World Tour "MASTERPIECE" in Manila is presented by DNM Entertainment and Starship Entertainment. HallyuLife would like to thank them for inviting us to witness this incredible show.
Check out our photos from the event here: CRAVITY @ MASTERPIECE in Manila (HQ PHOTOS) [20230805]

THIS SPACE INTENTIONALLY LEFT BLANK.