The ending of November 2022 will be epic as EPIK HIGH comes back for their solo show!
The K-Hip-hop Trio returns to the Philippine stage with more performances to have fun and chill with their Filipino HIGH SKOOLs (Epik High fans). Members Tablo, Mithra Jin, and DJ Tukutz will surely give you a night of great music and a fun experience as they will perform a lot of tracks that you will surely love.
The show "EPIK HIGH is HERE" in Manila will be happening this November 30, 2022, Wednesday at 7:30 PM at the New Frontier Theater in Quezon City.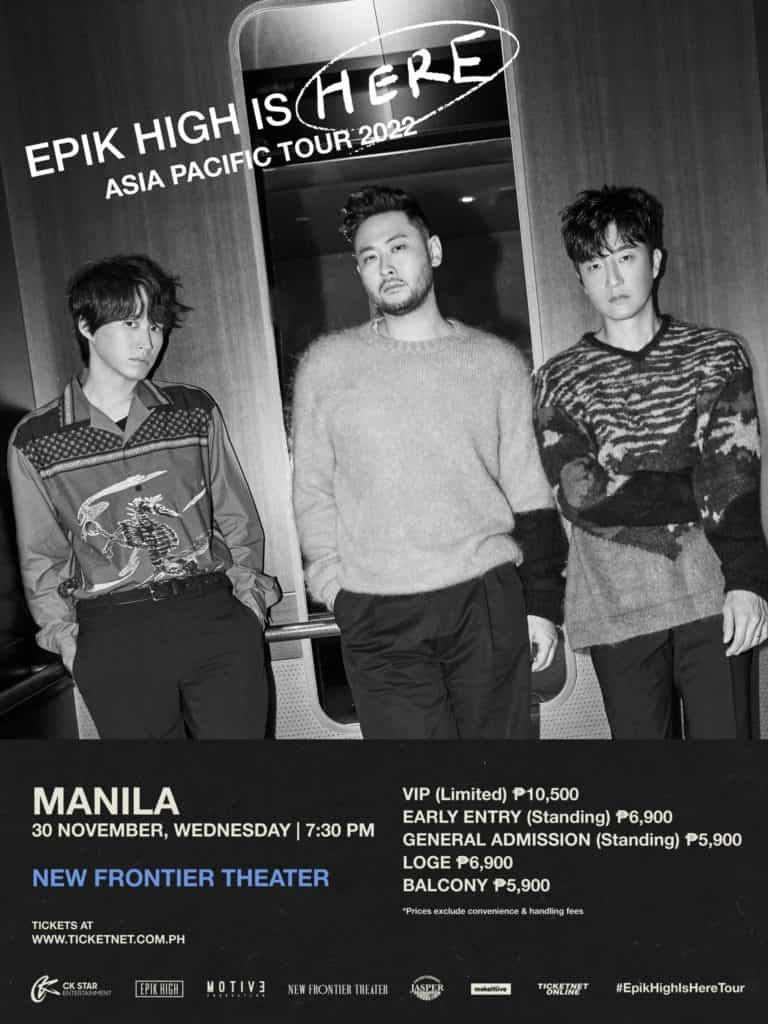 ---
Ticket prices, seat plans, and availability
Tickets for the "EPIK HIGH is HERE" in Manila are available at TicketNet online.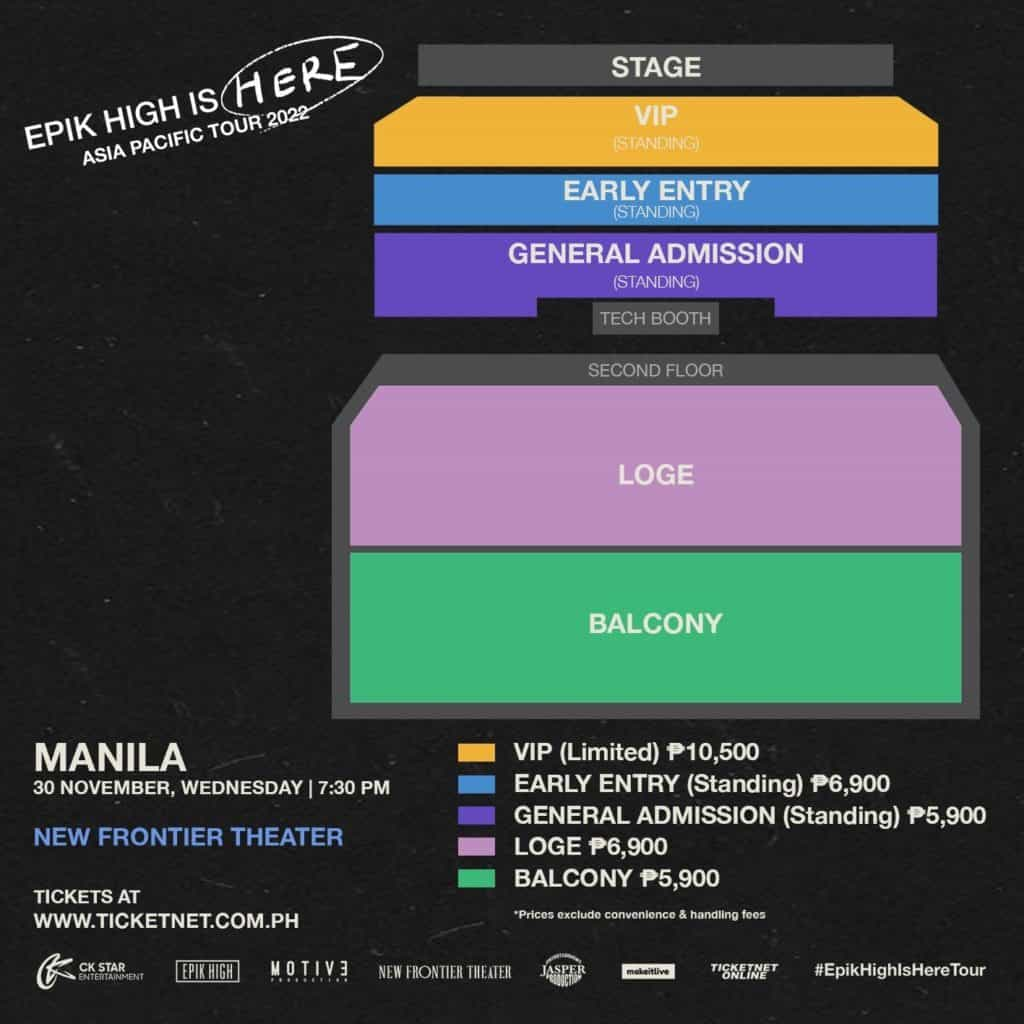 Prices are here as follows (all prices are in Philippine Pesos (PHP) and exclude ticketing charges):
VIP (Limited) – 10,550
Early Entry (Standing) – 6,900
General Admission (Standing) – 5,900
Loge – 6,900
Balcony – 5,900
---
Event Guidelines
Here are the things you need to know before attending the "EPIK HIGH is HERE in Manila" this November 30, 2022:
---
Get epic with EPIK HIGH!
The great energy given by Tablo, Mithra Jin, and DJ Tukutz will make you sing along, rap along, or even dance along to their songs. From various freestyles to collaborations with well-known artists, EPIK HIGH truly shows the real deal here. That's why we give you hand-picked tracks that will hype you up for the main event which will get you singing, rapping, and having an epic experience to remember.
However, I can't provide any guarantee that all of these will be performed LIVE at their show.
Born Hater ft. Beenzino, Verbal Jint, B.I, MINO, BOBBY
Yes, the title is right! This track is the real deal and will always be part of EPIK HIGH's charisma. Even Mithra Jin shared that this track is his favorite from their whole discography. Truly BORN HATERS but MUSIC LOVERS!
Gray So Gray ft. YOUNHA
You will not feel gray with this track but you will feel the emotions through EPIK HIGH and Younha's lovely voice. This track tells the story of someone trying his best to be a better person. A chill track to listen to while you're on the road.
Can You Hear My Heart ft. LEE HI
Want another memorable track? Let's go back to 2016 and relieve the moments from the Korean drama "Moon Lovers Scarlet Heart: Ryeo" because this track will bring you back to it. The first seconds of the songs will surely give you the feels as LEE HI and EPIK HIGH tells you a confession of love for someone. Just like Tablo said, "Don't forget me ever, never ever" and we definitely won't forget this song (even the Korean drama too).
Rain Song ft. Colde
Whenever we miss someone especially when it rains, this is the song to be. Listen and you'll know why.
Get to hear more of their performances LIVE and stay tuned on HallyuLife as well as on Makeitlive and CKstar Entertainment SG for show updates and possible coverage! ##EpikHighIsHereTour -HallyuLife.com

THIS SPACE INTENTIONALLY LEFT BLANK.