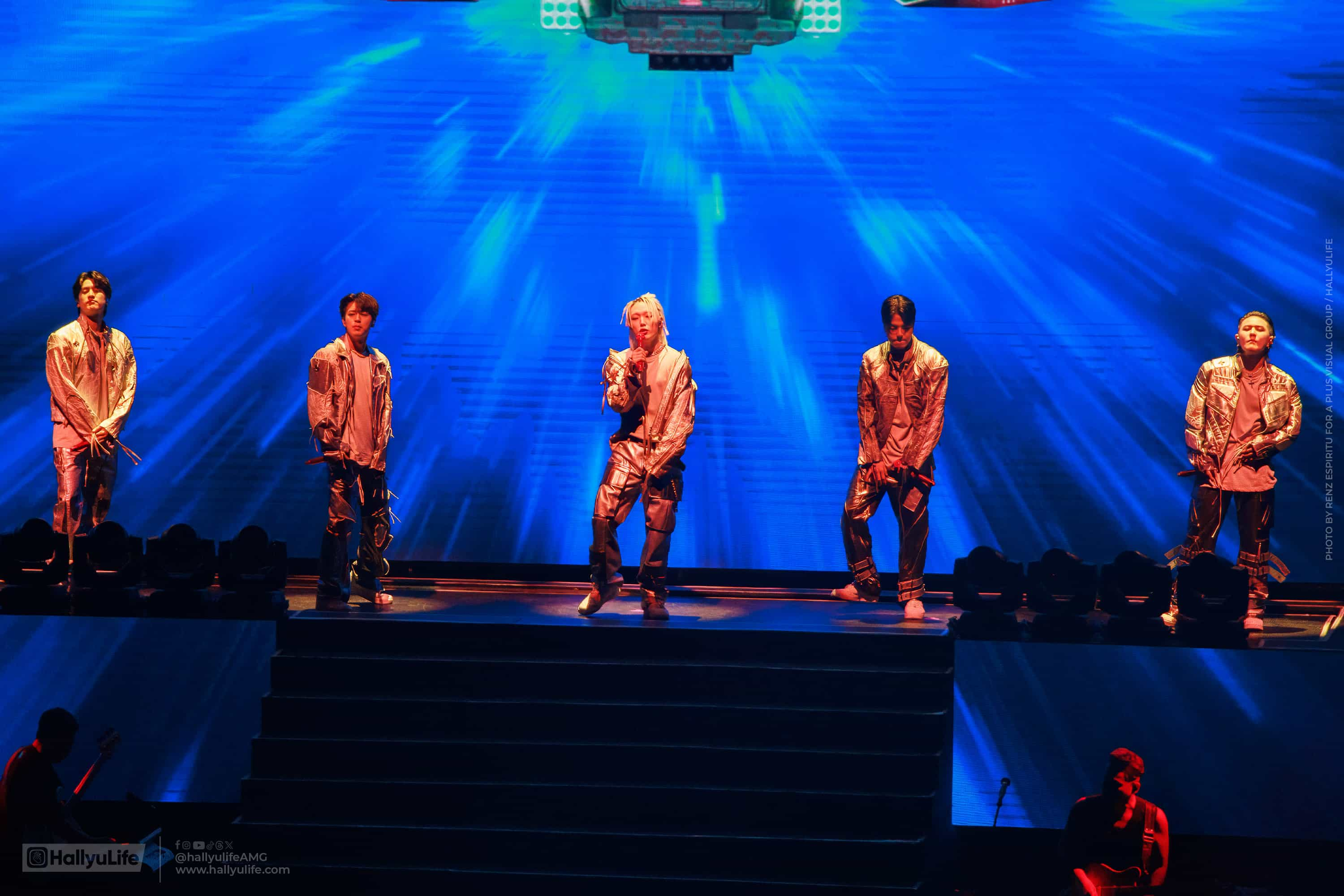 "Philippine Manila iKONICs, ikaw lang ang nasa puso ko!  (Philippine Manila iKONICs, you are the one in my heart!)"
This is what iKON member Chan said after PH iKONICs (iKON's fans) joined the K-pop boy group during their "TAKE OFF" World Tour in Manila at the Araneta Coliseum on August 5. Following their "Continue" World Tour in November 2018, it is their first full concert performance in Manila in more than four years. iKON kept their word and returned to the Philippines exactly one year after their previous visit in 2022 with an incredible and memorable concert experience — and we're here to tell you why iKON's "TAKE OFF" in Manila is iKONIC!
The show began with spectacular performances of "Tantara," "SINOSIJAK," "At Ease," and "Killing Me" by iKON's BOBBY, DK, JU-NE, and CHAN that left the audience in awe and excitement. Due to his military enlistment on July 20 last year, Jinhwan was unable to make it to the Manila show. However, when members talked to him, he expressed his desire to visit the Philippines soon. When iKON performed their hit songs "Killing Me," "RHYTHM TA," and "BLING BLING," PH iKONICs partied with them, and the coliseum was packed with enthusiastic singing, dancing, and jumping.
DK of iKON gave an update on his fellow members, including JU-NE's start to acting, BOBBY's album release, and iKON's upcoming release of two new songs. BOBBY loves the chicken and spaghetti at the fast food restaurant chain Jollibee.
Chan mentioned that Jinhwan speaks Tagalog fluently. During their concert back in 2018, Jinhwan revealed that he lived in Davao City while attending high school. He taught them words before the "TAKE OFF" concert.
BOBBY said, "Hello, maganda. Gusto nyo ba mag-inom mamaya? Mahal kita. (Hello, beautiful. Do you want to have a drink later? I love you)." Chan added, "Sakit ako tiyan (My stomach hurts)" and "Sakit ako ilong (My nose hurts)," eliciting laughter from the audience and "Philippine Manila iKONIC, ikaw lang ang nasa puso ko (Philippine Manila iKONIC, you are the only one in my heart)."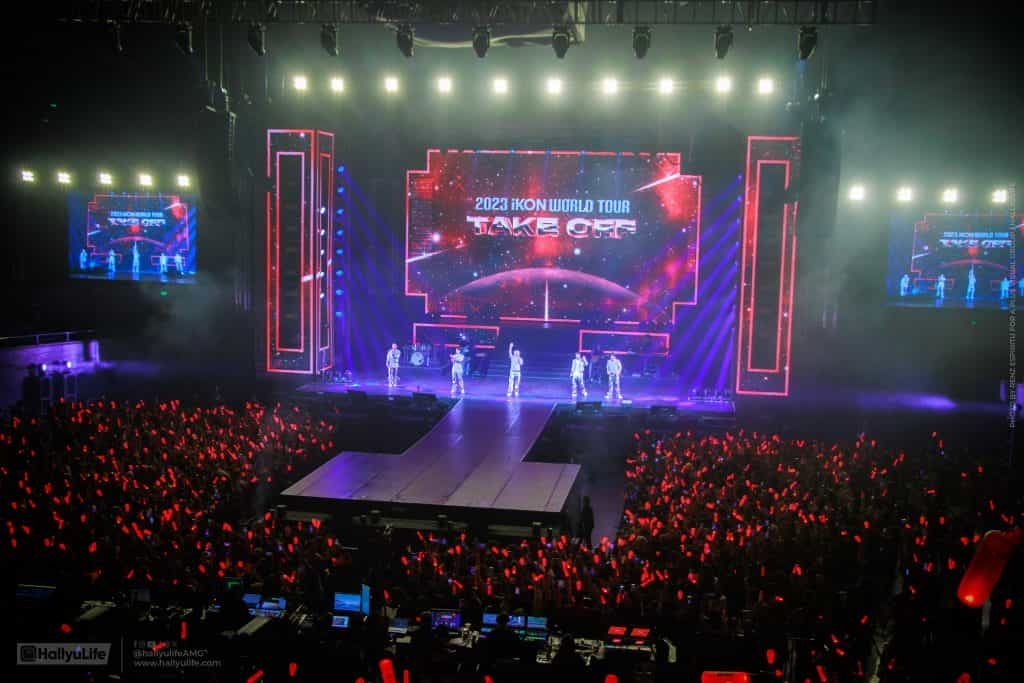 PH iKONICs joined iKON in singing the megahit "LOVE SCENARIO," followed by "U." Each member performed solo stages from DK's "Kiss Me," JU-NE's "Want You Back," BOBBY's "HeartBROKEN PlaYBoY," SONG's "Fighting," and BOBBY and JU-NE's "Deep Night" for the whole coliseum. Despite the fact that Chan did not have a solo stage, he showed a portion of his co-member's dance, which made the fans delighted.
iKON also serenades their fans with songs like "Why Why Why," "Like a Movie," and "GOODBYE ROAD," which reminded us of iKON's wonderful journey. iKON continued to hit the stage and gave their fans a great time performing "What's Wrong", "DUMB & DUMBER", "B-DAY", "FREEDOM" and "Driving Slowly".
After performing back-to-back in front of their PH iKONICs, each member gave their messages and their heartwarming realizations.
DK started with his message:
Manila is the best! We have been in different countries in our world tour right now but I think this is the first country that I see that all of you are happy partying with us. That is why we changed our minds and we will be singing more songs in our encore. You are great at having a party. Thank you because you are all here for iKON. Next time we will come back with all six members.
JU-NE added in reply:
It's been a while before we came back to the Philippines but thank you very much for your hot welcome for all of us. Because of you, I really enjoyed being on the stage. Mag-eenjoy ba kayo hanggang sa dulo (Are you going to enjoy until the end?).
SONG shortly said:
Thank you for welcoming all of us. We will try our very best to be with you forever.
Chan gladly said:
I'm really happy to see the Philippine iKONICs because you are great in having fun together with us. It's really warming to our hearts that you have prepared so much for us.
and lastly, Bobby wholeheartedly said:
The truth (is), you are better (in singing) Korean than me. Thank you so much for coming out today. We are not the ones who make this show 100 percent. You guys are like the most important structure of this world tour.
To surprise the members, a fan video was prepared showing messages of love and support from their PH iKONICs. One memorable line said:
iKON, always remember that, we'll be with you until the last.
iKON members thanked everyone who continues to support them and for coming to their "TAKE OFF" concert in Manila.
And as promised by the members, the whole coliseum happily partied with iKON as they wrapped up the night with back-to-back encore performances of "B-DAY", "RHYTHM TA", "LOVE SCENARIO", "FREEDOM", and "Tantara".
It was truly an iKONIC moment for all the PH iKONICs present that night. Adding to their amazing live vocals is the live band that made their stage performances even more spectacular. All were sharing the same feelings of love and support for the members as well as the happy memories made through their songs from the start of the concert till the very end. Both iKON members and iKONICs will surely not forget this wonderful night.
---
The 2023 iKON WORLD TOUR [TAKE OFF] in Manila was made possible by Pulp Live World, Happee Hour, ACM, and 143 Entertainment. HallyuLife would like to thank them for inviting us to this incredible event.
Check out our photos from the event here: iKON @ TAKE OFF in Manila (HQ PHOTOS) [20230805]

THIS SPACE INTENTIONALLY LEFT BLANK.