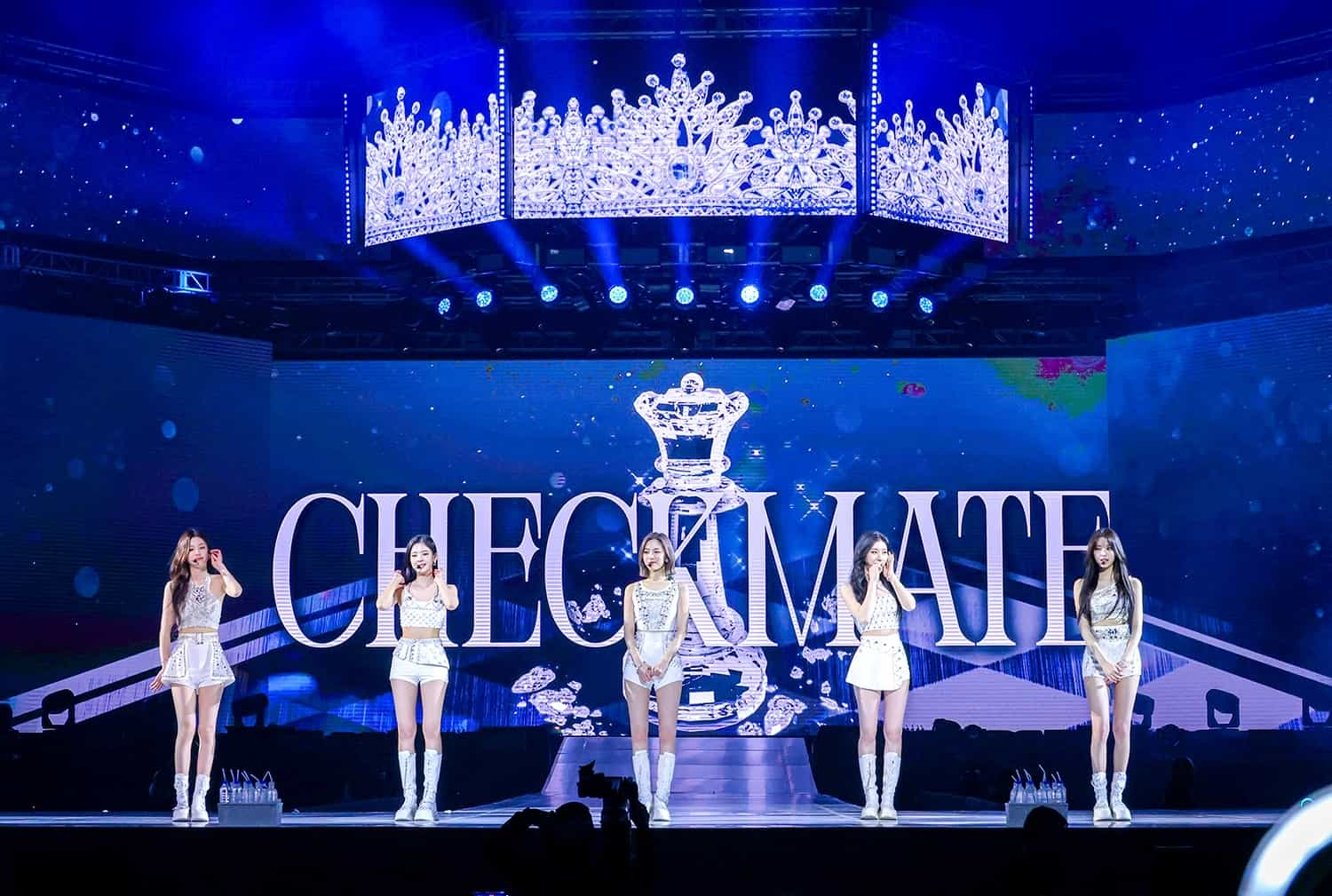 MANILA – Korean girl group ITZY just completed their 2-night sold-out show for their first world tour <CHECKMATE> at the SM Mall of Asia Arena last January 14-15, marking the beginning of the Asian series of their world tour after shows in Seoul and United States.
ITZY's return to the Philippine shores this January was unlike their first visit in 2019 when they staged their first showcase to their Filipino fans. This time around, ITZY was met with a lot of love and fanfare, from the press event held at the Glorietta Mall's Activity Center the day before their concert, which attracted a lot of fans, till the last day of their 2-night show.
ITZY during their press event in Glorietta Activity Center in Makati, Philippines. Photo from Live Nation Philippines

It was originally planned to only hold a one-day concert on January 14, however, due to high demand and the tickets quickly selling out, promoters have added another second show on the following day, which also sold out quickly.
On the 2 days of the concert, ITZY responded to the enthusiastic reception they received from their Filipino fans with fantastic performances of their songs, with a band version of "(Mafia) In the Morning" as their opening track, followed by "Sorry Not Sorry" and "SHOOT!", all from their fourth mini-album "GUESS WHO".
The girls introduced themselves mostly in English, with some Tagalog words and phrases which the members have studied in preparation for the show, enabling them to sound much closer to their Filipino fans. ITZY never failed to express their gratitude towards MIDZYs who are supporting them all together, from their first show in 2019 until the time they returned.
MIDZYs, in return, responded with their loud chants and sang their best, cheering every single performance like it was the last one, as their wait for three years to see ITZY live once again proved worth it.
In each day after the show ended, ITZY posted photos on their social media accounts, thanking Manila MIDZYs for their unwavering support towards the group, with the words saying "Mahal namin kayo. (We love you.)" and "Salamat po. (Thank you.)", including the fan-made slogan/banners.
ITZY also treated their fans to some special solo stages with Ryujin's cover of "Boss Bitch (Doja Cat)", Yuna's "Maniac (Conan Gray)", Lia's "Red (Taylor Swift)", Chaeryeong's "Bloodline (Ariana Grande)", and Yeji's "Hotter than Hell (Dua Lipa)", heating up the venue with excitement towards their succeeding performances.
The K-pop quintet also performed hits such as "ICY", "WANNABE", "DALLA DALLA", "SNEAKERS", "LOCO", and "Not Shy", as well as their latest title track "Cheshire", which was performed for the first time on the <CHECKMATE> tour. They also performed B-side tracks such as "WHAT I WANT", "365", "CHERRY", "Free Fall", and "#Twenty".
Prior to their encore performance on the second day, the fans prepared a surprise in the form of a video, showcased on the big screen, documenting ITZY's precious moments and milestones, along with some touching, heartfelt messages to ITZY, which made the girls teary-eyed.
On the encore, ITZY returned on stage to perform their tracks "DOMINO", "Trust Me MIDZY", "Boys Like You", and capped the show off with the track "NOBODY LIKE YOU".
After their Manila show, ITZY will continue their <CHECKMATE> tour in Asian cities such as Singapore on January 28, Jakarta in Indonesia on February 4, Chiba in Japan on February 22-23, Taipei in Taiwan on February 26 and Bangkok in Thailand on April 8.
The group will also have its second official Korean fan meeting at the KBS Arena in Seoul on February 12, which will be held offline and streamed online. -HallyuLife.com

THIS SPACE INTENTIONALLY LEFT BLANK.