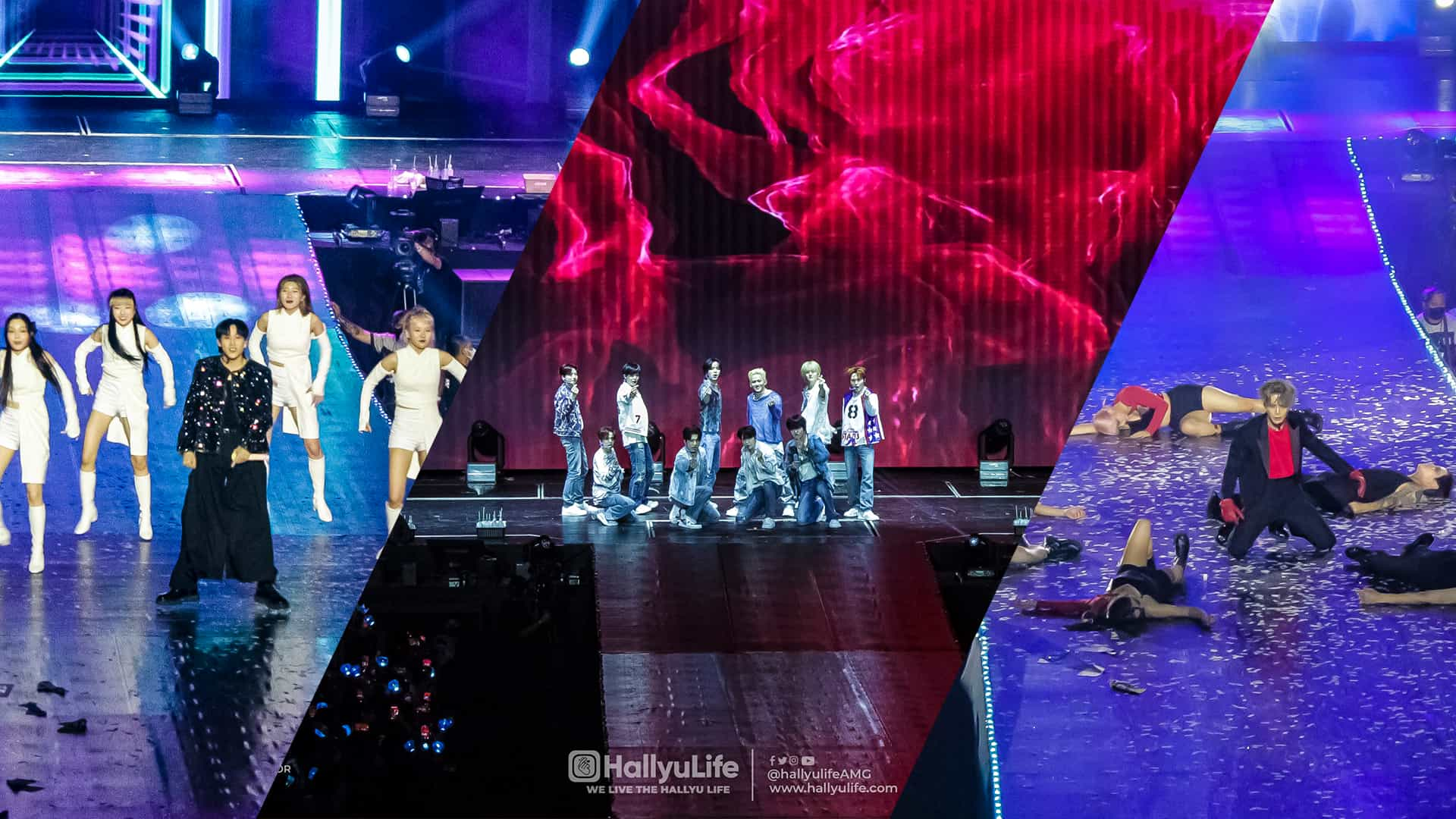 MANILA – What a way to spend a Friday night in Manila with the Korean boy group TREASURE as well as GOT7 members BamBam and Jackson Wang who are both appearing as soloists for the first time at the Mall of Asia Arena.
Both BamBam and Jackson Wang already went to Manila alongside the other GOT7 members with their "Keep Spinning World Tour" in 2019, while TREASURE makes their first visit to the Philippines while members Bang Yedam and Mashiho were not present as they are currently on hiatus.
The precious opening memory
With their first overseas performance since its debut, Treasure kicks off the stage with a loud "What's up Manila!" and their performances from two of their title tracks "JIKJIN" and "I LOVE YOU" that really got the Filipino Teumes (short term for Treasure Makers) and also the Ahgases scream and shout for them. As they introduce themselves and try to speak in Filipino, the whole arena of blue and green lights greeted Jaehyuk with a happy birthday song. He responded, " Thank you for celebrating my birthday. It's a memorable day for me, mahal kita (I love you)".  Treasure continues to perform on stage, this time with their adorable and youthful B-side tracks "MY TREASURE" and "MMM".
They show their competitive side in a "Treasure Match" series of games. It's a friendly match between Hyunsuk's Team "Mahal Kita" with Haruto, Jaehyuk, Jeongwoo, and Yoshi, and Jihoon's Team "Gwapo" with Asahi, Doyoung, Junghwan, and Jungkyu. From playing "One Body, One Soul" or a game of matching the pose of each member to a given word, to the well-known game of Ddakji, both teams win as they showed their charms and happy energy which lead to a photo time with the Teumes and Ahgases. Treasure members were so grateful and hopeful that they will come back to the Philippines saying "Babalik kami" (we will return). They ended their set with performances of their debut track "BOY" and a remix of their catchy B-side track "DARARI" to show how precious Teumes are to Treasure.
The best shot puno! (The best full shot)
It's B to the B as BamBam hits the stage next with back-to-back performances of "Wheels Up", "Ride or die", and "Looks so fine". He was so happy to be back in Manila after 4 years since their "Keep Spinning World Tour" in 2019. In a yes or no game, Bambam revealed that Bangus, or milkfish is the best fish he has tasted in his life, and he learned the Filipino line "Shot puno!" which means cheers for a full shot of a drink. He also told the audience that he does not consider himself handsome. He said, "My GOT7 members are so good-looking than me, I want to be recognized for my performances [rather than his looks].
Four years ago, BamBam promised that he will come back to Manila and sing a song. As he returns, he fulfills his promise and sang the Filipino song "Ngiti" (Originally sung by Ronnie Liang) and serenades the crowd with his angelic voice. Later on, the original singer Ronnie Liang acknowledged and thanked BamBam for singing his song at the concert.
View this post on Instagram
He then performed his collaboration track with Seulgi "Who Are You" and "Pandora". But before he ends his performance set, BamBam called a very special, but an unexpected guest who visited to support him performing to the Filipino fans.
Grabe~!!! ? What a totally unexpected day todayyy~!!! Came here to support my dear brother @bambam1a and I ended up performing on stage ? nag enjoy ba kayo?! Sana nag enjoy kayo!!! Thank you Bambam~!!! ??? pic.twitter.com/rRHb9XtoH5

— Sandara Park (@krungy21) July 29, 2022
Little did we know that it was his labelmate, senior artist, and 2NE1 member Sandara Park (Dara) who came and surprise everyone in the arena. She performs 2NE1's hit 2010 track "I Don't Care" alongside BamBam, and she joins BamBam in saying "Shot Puno!" and performs his last track of the set "riBBon" as he promises to return to Manila as soon as he has a solo concert or even a GOT7 concert.
View this post on Instagram
The Magic Man
And last but not the least, is the singer, songwriter, rapper, record producer, and GOT7 member Jackson Wang. He blows the stage with the debut performance of his newest track "Cruel" from his upcoming album MAGIC MAN, which is set to be released on September 9, followed by his recently released track "Blow". Jackson admires the loud and passionate cheers of the Filipino fans saying, "First of all, their passion is on another level. When they cheer, you know it's real and they mean it". He reiterated that point several times during the show.
Besides directing various video projects including his own music videos and being a performer, Jackson revealed that he's taking acting workshops and is now ready to act. He also tells the story behind his photos from his life moments to his first Coachella experience and he ends the night with his performance of "100 Ways" to show his love to all the Ahgases and Teumes in the arena.
Treasure, BamBam, and Jackson Wang showed us unstoppable performances that made us scream and shout as well as the love and support that we give to them makes a precious memory to remember.
The 2022 K-Pop Masterz in Manila started at 6 PM (Philippine Time) and lasted for 3 hours. This concert event marks the start of PULP Live World's set of K-Pop concerts this 2022 as they return with the biggest stars and the best shows in Manila. -HallyuLife.com
HallyuLife would like to extend its gratitude to PULP Live World for letting us be part of the concert.

THIS SPACE INTENTIONALLY LEFT BLANK.