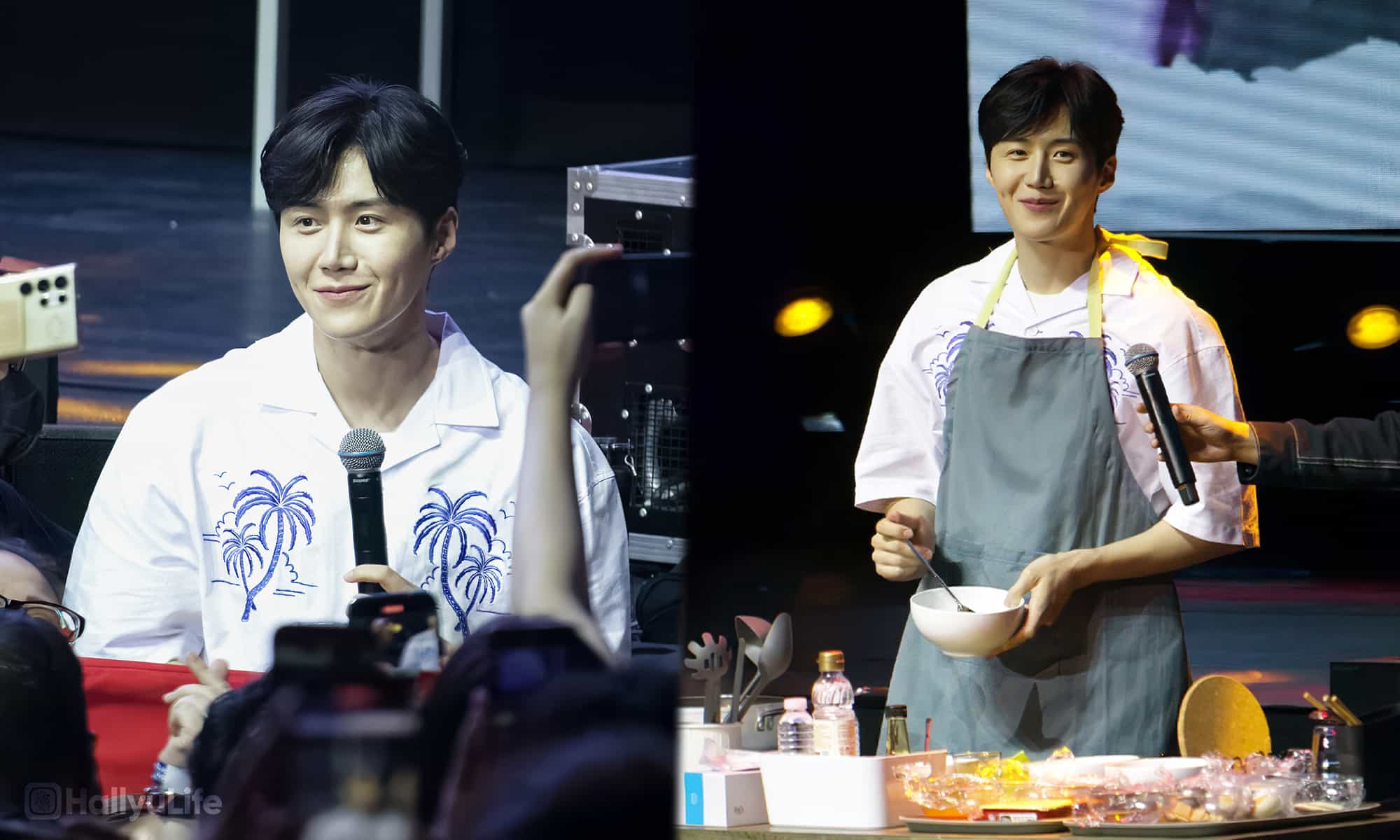 MANILA — "Hometown Cha-Cha-Cha" and "The Childe" South Korean actor Kim Seon Ho painted smiles on Filo Seonhohada's faces again as he visited Manila for the second time this year last July 22 at the Araneta Coliseum!
The "love to meet our GOOD BOY" The Kim Seon Ho Fan Meet 2023 was presented by the local clothing brand BENCH, and before the actor's evening show, the good boy himself held a press conference and genially answered the questions.
Robi Domingo, the host for that day, asked Kim Seon Ho how he felt coming back to Manila again. The actor said, "I'm really excited and flattered right now since I'm back here in the Philippines."
Since this is his second time in the country, Seon Ho shared that he is always curious about the taste of the Filipino dessert Halo-Halo. And because he didn't get to try it on his first visit last January, he wanted to taste it now!
In talks about him being one of the Global BENCHsetter, Seon Ho admitted that he was aware that BENCH is a big clothing line in the Philippines. He feels excited yet nervous at the same time being one of the ambassadors of a well-known clothing brand.
In terms of working with the BENCH team, Seon Ho happily mentioned that the staffs he worked with were really kind and friendly. The actor added that they treated him like a family!
"BENCH is a very successful brand because Mr. Chairman himself is a trendsetter," Seon Ho proudly expressed.
When asked about his favorite BENCH piece, the good boy said that his personal pick was the shirt with a "Manila" print that he also wore on his arrival in the Philippines!
KIM SEON HO ARRIVED IN MANILA!!! 🥰❤️ #KimSeonHo #KIMSEONHOinMNL2023 #KIMSEONHOxBENCH #erjynemontojo https://t.co/Wwin01Svvy pic.twitter.com/oRCfSemYil

— ᴇʀᴊʏɴᴇ (@erjynemontojo) July 21, 2023
As the casual talks of the presscon go by, Seon Ho was asked how he feels when everyone labeled him as a "Good Boy". The actor responded that in Korea, the word "Good Boy" is usually used by elder people to describe a person who is innocent and pure-hearted. That's why it means a lot to him.
"When I hear the term 'good boy', it really makes me emotional."
He gratefully said he was very happy that his character in the K-drama "Start-Up" where he performed the character of Han Ji Pyeong was accepted by many people.
In line with his acting talks, Kim Seon Ho also stated that among the character he already played in the past, the most similar to his traits was his character in "Hometown Cha-Cha-Cha". The reason was that he enjoys talking to people and likes to exchange conversations with them. He also mentioned that he really preferred to showcase his ordinary side when filming a scene.
For his role in his newest action movie "The Childe", Kim Seon Ho highlighted some preparations he did to execute the movie well. This includes preparing for the action scenes and carefully reviewing the script for his character analysis.
To get into the personal side of Seon Ho, he revealed that one of his favorite hobbies is just simply walking because he gets to think about what will happen the entire day. The good boy also values this type of me-time since he gets to perceive what's happening in our society and what people usually do.
Before the press conference ends, Kim Seon Ho gave an advance message to his supportive fans."Every time I come here, there's a warmest welcome for me, that's why I feel warm and grateful about this."
But LOOK! It seems that right after the press conference, Kim Seon Ho took several snaps of him with his big BENCH billboards along EDSA.
THE GOOD BOY IN EDSA! 😍

LOOK: Hometown Cha-Cha-Cha actor Kim Seon Ho poses in front of his billboard in EDSA Guadalupe for the clothing brand Bench.

📸 Kim Seon Ho, IG (seonho__kim) pic.twitter.com/jkMml3OImy

— HallyuLife (@hallyulifeAMG) July 23, 2023
AT THE FAN MEET
As the fan meeting kicks off, the passionate Filo Seonhohadas erupted with joy, finally meeting their beloved "Good Boy" in person. Throughout the evening, Kim Seon Ho captivated his fans with warmth, humor, and genuine appreciation, making it an unforgettable experience for everyone involved.
Upon stepping onto the stage, Seon Ho was overwhelmed by the enthusiastic welcome from his Filipino fans, who greeted him with love in three languages: English, Tagalog, and Korean. He reciprocated their affectionate greetings by saying, "Mahal ko kayo!" Despite his previous visit to the Philippines, he admitted to feeling nervous before the event, but the outpouring of support quickly put him at ease.
During the fan meeting, the charming host, Robi Domingo, engaged Seon Ho in a candid interview about his work. In his interview, Seon Ho was asked to share his thoughts on some of the most captivating snapshots displayed to the fans. The photos featured moments from various projects, such as a stunning photoshoot for his play "Touching the Void," promotional images for his latest movie "The Childe," and other breathtaking captures that left fans swooning over his undeniable charm and charisma.
The actor emphasized the importance of understanding his characters deeply, often seeking guidance from professionals and studying various references to enhance his craft. For his recent movie, "The Childe," Seon Ho shared his efforts to bring out the wit and charm of his character, delighting the audience by reenacting his iconic Tagalog line in the movie, "Ngiti ka naman diyan, akong bahala sa'yo."
WATCH: Kim Seon Ho reenacting one of his photos that was taken during his photoshoot for the promotion of his movie, The Childe.@benchtm#LoveToMeetOurGoodBoy #BENCHxKIMSEONHO #GlobalBENCHSetter pic.twitter.com/O2jOkak5WM

— HallyuLife (@hallyulifeAMG) July 22, 2023
In a heartfelt promise to his fans, Kim Seon Ho expressed his desire to learn Tagalog to connect better with his Filipino supporters during his future visits. He also promised to host a segment himself for his next fan meeting.
Robi didn't miss the opportunity to ask about one of the most endearing and beloved aspects of Kim Seon Ho's charm – his captivating dimple. With a warm smile, Seon Ho shared that his dimple naturally comes out when he's filled with laughter and happiness, becoming a delightful signature of his infectious joy. He confessed that before stepping onto the stage, he couldn't contain his beaming smile, as he felt overwhelmed by the immense warmth, love, and unwavering support exuding from his devoted fans.
The fan meeting organized by BENCH featured exciting activities that brought Seon Ho closer to his adoring fans. Engaging in games like "Spot the Difference" and "Pictionary," Seon Ho showcased his playful side. Though he said that he is not good at drawing objects the fans' enthusiasm remained undeterred, as they successfully guessed the dramas depicted, winning cherished sketches adorned with Seon Ho's signature.
Additionally, the actor gamely played "Pinoy Henyo," with the audience and guessed all of the answers correctly.
To the delight of the fans, Kim Seon Ho transformed his character from Chief Hong to Chef Hong, preparing tteokbokki on stage. Kim Seon Ho admitted that as an actor, he had never imagined himself preparing tteokbokki in front of such a large audience. As he cooked, he couldn't help but express his fondness for Filipino cuisine, particularly enjoying dishes like Halo-halo, lechon, and bulalo. Adding to the excitement, one lucky Seonhohada was granted the extraordinary opportunity to taste the freshly prepared tteokbokki and conveyed a heartfelt personal message to the actor.
The fan meeting buzzed with excitement as another delightful activity brought Kim Seon Ho and his devoted fans together – the reenactment of iconic scenes from his beloved dramas, including "Startup," "100 Days My Prince," and "Hometown Cha-cha-cha." Laughter and applause filled the venue as fans passionately embodied the characters alongside their adored actor.
The evening culminated with fans expressing their deep appreciation for the actor, and in return, Seon Ho thanked his supporters for being an integral part of his journey. He extended his gratitude to the BENCH team for organizing the event, leaving everyone with an unforgettable memory.
Kim Seon Ho's fan meeting in the Philippines was a night to remember, filled with joy, laughter, and heartwarming moments. The actor's genuine connection with his fans, his dedication to his craft, and his openness to embracing Filipino culture endeared him even more to the adoring crowd. As he bid farewell, the "Good Boy" proved that he was not only the best boy to his fans but also an actor who cherishes and values the love and support of his fans.
---
"love to meet our GOOD BOY" The Kim Seon Ho Fan Meet 2023 was presented by BENCH. HallyuLife would like to thank them for letting us be part of this memorable show.
#LoveToMeetOurGoodBoy #BENCHxKIMSEONHO #GlobalBENCHSetter

THIS SPACE INTENTIONALLY LEFT BLANK.